The All-Energy Conference has been held annually since 2001 to connect suppliers and policy makers of low carbon and renewable energy with investors, buyers, and professional service providers that can support the development of a net zero future.
The conference explores a wide variety of sectors and topics crucial to the global energy transition, and this year we are delighted to have our Head of Hydropower, Tom Clegg, in attendance as a guest speaker. Tom will be discussing pumped storage technology, the role pumped storage can play in decarbonising the UK electricity grid, and the Fichtner developed PumpIT tool for identifying potential development sites. Tom will sit alongside an impressive panel of hydropower industry leaders for an audience Q&A session that promises to provide some interesting insight into the subjects covered.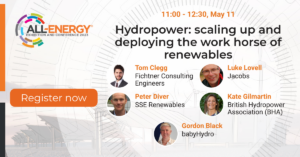 The full two-day programme encompasses a variety of engaging topics, including decarbonisation of cities, energy systems, and deployment of a range of low carbon energy generation and storage technologies. There is still time to register your attendance over on the All-Energy website – we look forward to seeing colleagues and clients there!
---

---